Arizona Aerospace: Continued Flight or Grounded?
Regional and Global Industry Review
Featuring: Glenn Williamson - President/CEO, KinetX Aerospace
Stephane Frijia - Senior Research Analyst, GPEC
Birgitte Santaella - Vice-President, Arizona Commerce Authority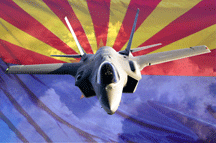 SkySong 1475 N Scottsdale Road in Scottsdale, Global Room (2nd Floor)
$20 in advance ($25 @ the door)
Includes coffee, juice, water, breakfast pastries. Free parking.
Arizona is a top-ranked Aerospace Industry state (#6 for DOD funding), contributing over $15 billion to the state's economy every year. With the Sequester, defense industry changes and global supply chain shifts, what can we expect to happen next?
We are honored to have three experts on the Aerospace Industry - Defense and Civil - to discuss the new GPEC study, the Sequester and global developments that will be impacting everyone involved with the segment - directly or indirectly.
Who should attend: Arizona business leaders looking for more international success including education and connections.
Welcome internationalists!
Questions? Contact
Yvonne Luker @ 480-595-5000 (info@azigg.com)